Things to Do
Whatever you may be looking for in a city, Peterborough has the perfect mix. From heritage attractions to countryside walks, nature reserves and villages with events throughout the year.

Take in the splendour of our magnificent 900 year-old Norman cathedral, which is a special experience of beautiful grounds and majestic architecture. Follow the heritage trail to be transported back in time at Peterborough Museum. And some of the best highlights in rural Peterborough include Burghley House, John Clare Cottage and Sacrewell Farm and Country Centre with its historic watermill.

And if you're looking for events, Peterborough has a jam-packed calendar of free large scale festivals and events on our river Embankment, which build on its growing reputation as the East Midlands' city of festivals.
Established favourites such as the Heritage Festival, the Italian Festival, Diwali Festival, Peterborough CAMRA Beer Festival and the Perkins Great Eastern Run attract thousands of visitors from all over the country and abroad.
If your interested in holding an event or city centre trading in Peterborough and would like more information on open air options and venues please email Justin.beaumont@peterborough.gov.uk.

Green spaces are in abundance. Take the children to the Green Flag award-winning parks or nature reserves and our impressive Ferry Meadows Country Park for a relaxing walk around the lakes and woodlands.

Peterborough is a vibrant regional shopping destination with Queensgate Shopping Centre located in the city centre. The high street has also room for independent stores and a City Market with a bustling food court serving street food and dishes from all over the world including a vegan offering.

When the daylight fades experience Peterborough's nightlife. There are three theatres offering drama, ballet and concerts - New Theatre Peterborough, The Key Theatre and The Cresset. For food and drink there's a diverse selection of restaurants serving cuisine for every palate, cocktail bars and nightclubs open until the early hours.

The city has four sports stadiums with football, speedway, ice hockey and greyhound racing.
Visit the Peterborough Gift Shop, click the image below: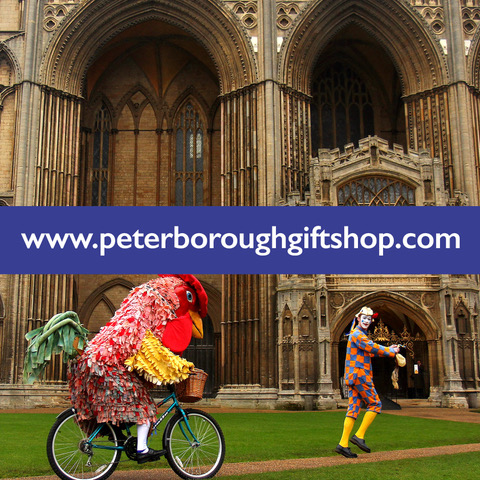 Highlights

Bounce is the 1st and original Indoor Trampoline Park in the UK!

This market is held every Saturday on Westgate and the Market Place. We currently have…

Situated in Spalding the heart of the fens, 20 minutes' drive from Peterborough.